27 May 2021
Exhibitor Q/A - Rob Hodgson, The Access Group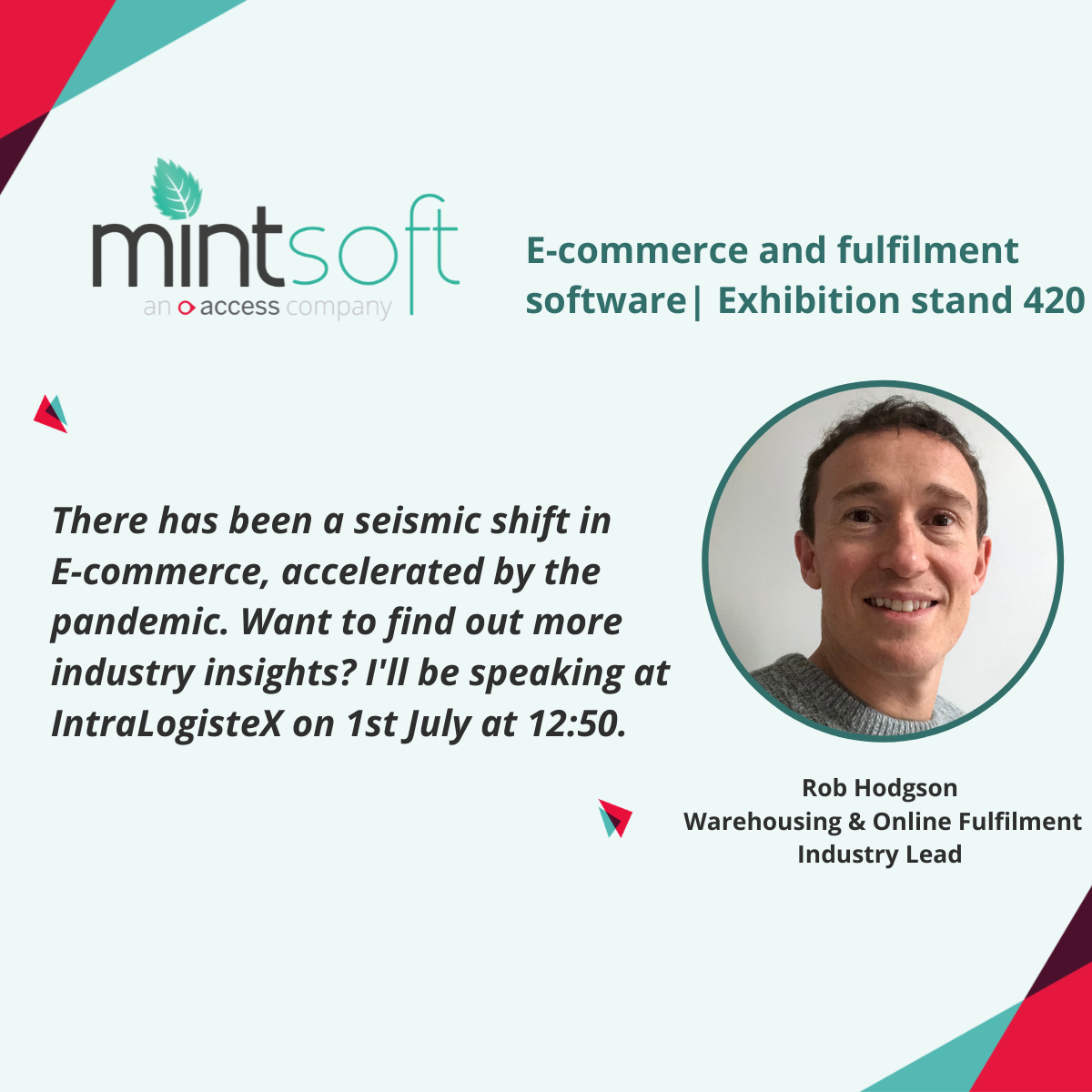 1) Could you please give me a little bit of background about you, your career path in the industry and any notable achievements?
I have spent 15 years supporting thousands of warehousing and logistics businesses achieve operational excellence through the use of technology. I have seen the inside of more warehouses than I care to count, walking hundreds of miles in the process.
My career began at an inventory and warehousing software house where I provided implementations and presales consultancy services.
2) Could you possibly give us some fun facts about yourself?
I have a keen interest in property and I've spent the last two years designing and building my family home while juggling the arrival of a second child halfway through!
3) What is your position within the company and your role and responsibilities?
I'm the industry lead for warehousing and E-commerce at Access, acting as a support to the wider teams and a presales consultant focused on new business projects. I also support the company's M&A strategy in this area, providing industry knowledge to supporting functions across Access.
4) Can you tell is any technical developments that you are working on at the moment, or what can we expect from the company in the foreseeable future?
Within the next six months we are developing the most complete back-office solution for 3PL, online retail, wholesale distribution businesses globally.
This is in addition to regular updates, such as new integrations, that we are releasing on an almost weekly basis.
5) What excites you about the industry and what, if anything, bugs you about it?
The past twelve months have been a very challenging but exciting time for the industry; it has really shone a spotlight into how critical warehousing and logistics is to the entire economy and people's day to day lives. An industry which is usually taken for granted has been given a significant boost.
One thing that bugs me is the struggle to attract young professionals into the industry. It can be perceived as a boring career path. But there's a digital revolution taking place, and even successful businesses are realising that they are technology companies as much as companies with physical assets; the smart use of technology will drive productivity and profitability for the sector. It should be an attractive proposition as an employment opportunity.
6) What sets your company apart from the competition?
We're not a one trick pony – we offer breadth of functionality. Access is a business that makes strategic acquisitions in key verticals so that we can deliver a more complete package than any other business.
7) At IntraLogisteX, will you be launching anything new to the market? If 'yes', what is it and why is it a must-have product/service for our visitors? If 'no', please provide some details about a product/service that showcases your expertise in this sphere?
We're officially launching Mintsoft alongside Access Workspace. It's the only warehouse management software platform with hundreds of standard out of the box integrations which can be set up by the client within minutes, not days, weeks or months.
8) Looking ahead, what new developments or areas of business have you identified that will impact our industry and how do you predict your offering will evolve to meet customers' needs?
There has been a seismic shift in E-commerce, accelerated by the pandemic. We're very well placed to take advantage of that by having a solution that matches companies' needs, with hundreds of interfaces to suppliers such as Amazon, OnBuy, Not On The Hight Street, Magento and many more.
9) Aside from the pandemic, what is the single largest challenge facing how you and your clients successfully operate their businesses – and how are you helping them to overcome it?
The pandemic has offered the majority of our clients a significant uplift in day-to-day business activities, so although challenging, the overall impact has not been anything like as severe as it has been in other industries.
10) Logistics technology start-ups seem to emerge on a weekly basis. What types of these transportation disruptors do you think will succeed?
One of Mintsoft's partners is best placed to answer this question: Dave Pickburn, Founder and Director of Stream, a cloud-based delivery, transport and fleet management software application:
"It's very much a buyer's world now. Customers are very much in control of the buying process. And driving that control is information now being 'on demand' and instantly available.
The logistics technology winners will be the ones that can help deliver visibility across the entire purchase, order and delivery process. They need to be able to integrate with other applications within the online retail ecosystem, while at the same time giving the customer the information they want, when they need it and how they want it.
Successful technology providers will be those that enable a two-way 'conversation' between business systems whilst putting the consumer at the centre of that conversation."
11) What are hoping to see at this year's IntraLogisteX and how excited are you about attending a real-life event, with hands that you can actually shake….?
It has been a transformative year for the industry and I'm looking forward to seeing how this is reflected at the event, the first intralogistics exhibition for nearly two years.
Access acquired Mintsoft in 2020 and we've developed the product further since so I'm excited to share this with the IntraLogisteX audience; there's great demand and need for a specialist E-commerce platform like ours.
It's also been a long time since I attended a live event so it will be a nice change from online events and networking.
12) New technologies, growth in e-commerce and sustainability are mega-trends that will continue for some time. What new megatrends do you anticipate and what market demands do you see evolving/changing over the next five years?
One trend I can see is that the huge retail units becoming increasingly vacant in inner cities and business parks will become mixed use retail (concept store) and fulfilment operations – similar to the Argos model.
13) And of course… the pandemic…. It's been one of the most significant disruptions to global supply chains ever. What opportunities are there now to redesign supply chains to be smarter and more resilient? What important things have we learned as a result of how we dealt with the pandemic in terms of resilience?
I believe that Brexit will increase our collaboration with European countries. Many UK businesses are setting up subsidiaries in Europe. They're going where the labour is, instead of importing it. It's building a stronger and more sustainable footprint in Europe.