12 Jan 2022
Top tips & products for a stress-free peak season in 2022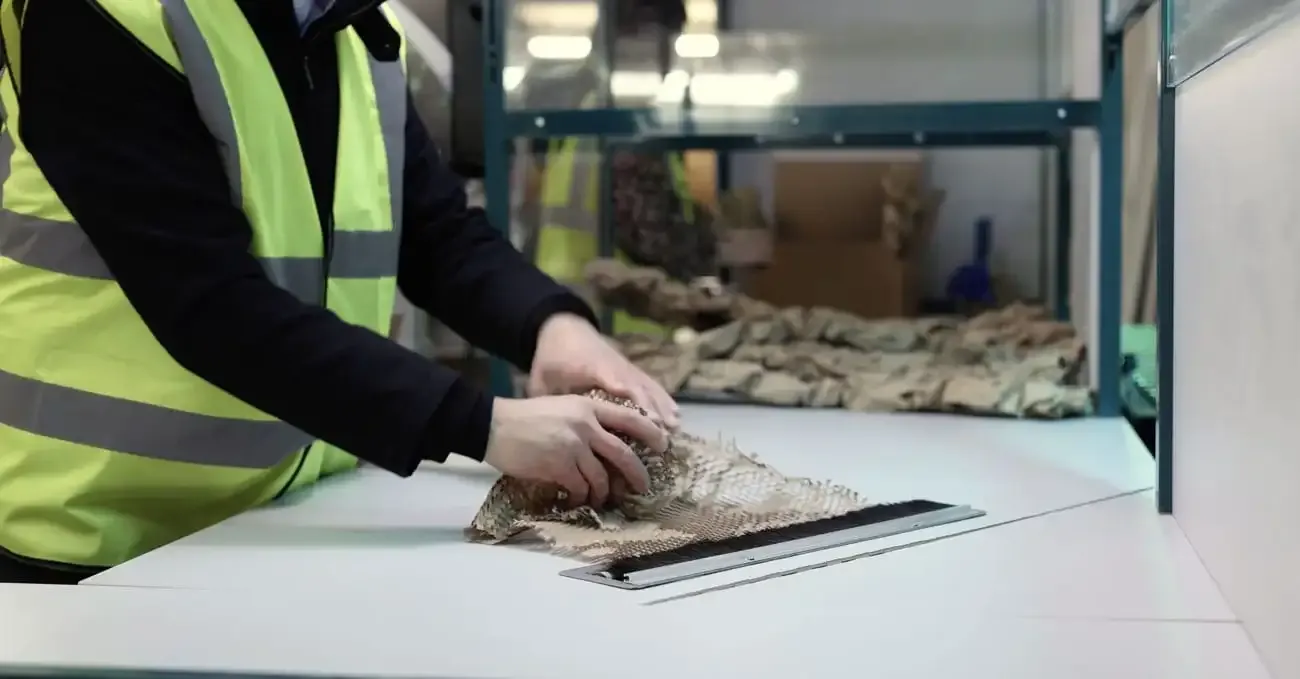 Peak season has been done and dusted for 2021, how did your operations perform?
Some businesses will have experienced eye-watering amounts of plastic going out of their warehouse, breakages in transit, delivery delays, slow packing speeds, staff issues and the list goes on. Last year we released a 'top tips' guide to help businesses with some quick fixes just before peak season – now we want to help resolve those pains that many businesses have felt during 2021 peak season.
Packaging up all these problems will eventually put strain on a business when peak arrives in 2022. Preparing now with these products and top tips will allow for a stress-free peak season – with sustainable packaging, faster packing speeds, more space and a fully integrated packaging solution that will improve warehouse efficiency, save costs, and enhance overall performances.
Read on if these relate to you, because you may be experiencing the same pain felt by many other businesses like yours:
Preparing for peak
Slower packing times as the area becomes congested with an increasing volume of orders
Reduction in efficiency owing to social distancing
An increase in damages or breakages
Delays in despatching resulting in unhappy customers
Feeling of frustration or guilt that you are using excess or unsustainable packaging
Peak season seems to creep up on us every year, therefor now is the time to make sure you have everything in order, and to help with that we have put together some top tips on how you can keep your operations flowing smoothly throughout Peak.
Latest Packaging Innovations that will improve warehouse efficiency during peak season
The new in-built Hexcel dispenser makes the use of Hexcel even easier and frees up valuable desk space. It also protects the dispenser from damage and helps maintain a constant tension when dispensing.
The use of Hexcel Wrap – a paper alternative to bubble wrap – has been made even easier with the development of an integrated dispenser. Housed under the bench, the Hexcel paper is simply passed through a pair of rollers and dispensed onto the bench at the optimal position for the packers.
This design maximises the usable area of the bench, and dramatically increases efficiency. To reload a section of the bench lifts up and allows rolls to be placed easily and ergonomically.
The integrated Hexcel bench will speed up pack times, but what if more capacity is required at peak?
We have introduced folding benches which can be quickly deployed in peak but easily folded up and stowed away when not required. This will give your packing area the space required to manage high demanding orders and allow your packers to maintain efficiency throughout busy periods.
Fil-in-a-Box, with HexaFil
Introducing our portable void-fill, Fil-in-a-box. A variation of Hexcel wrap which is a quick void-fill solution that can be deployed without the need of power. Designed specifically for fast-paced operations and speed of packing, ensuring no delays in despatching your products to customers.
Accompanied by a stand made from 100% recycled material and positions the Fil-in-a-Box perfectly for ease-of-use by packers, whilst taking up minimal space.
Automatic Gummed Paper Tape Dispenser
Activated by water, this paper tape is the most secure and eco-friendly way of sealing a box!
The PRT70 gummed paper tape dispenser is reliable and simple to use. Pre- programmed lengths can be selected using the coloured buttons enabling boxes to be sealed quickly and efficiently. As well as ease of use, another unique features of the machine and tape is that it leaves no residue on the hand of the operator from the tape's adhesive!
Top Tips guaranteed to make Peak Season run smoothly for your operations
1. Saving Space in your packing area
Packing areas can become very busy very quickly, and when this happens space can become the number one problem. Areas can quickly become messy and unproductive if there is a lack of room to move, and obstructions often causing health hazards, breakages and reduce staff morale.
The good news is that there is a fix for this. Protega design bespoke workstations and conveyor systems, that can help you streamline your operation. We can work with you to design an integrated packing system that takes account of your pick, pack and despatch processes, and increase the number of parcels you despatch out of the door – even in the most space restricted areas.
Our team of experts can either visit your site to learn your needs, or from a plan produce CAD drawings showing you exactly how a scheme would look in your environment. The design, production, installation and maintenance of this equipment is all carried out by our in-house team.
The Protega Global integrated packing system is customised to you, and we have flexible finance options – even capital free. If you wish you can simply finance it through the purchase of consumables.
Our new integrated Hexcel Bench has been developed as a direct result of customers asking for ways to speed up their processes during the pandemic. The Hexcel packing bench provides a space saving haven. Not only is the storage of packing materials virtually eliminated, the Hexcel Wrap – a paper alternative to bubble wrap – is on hand to dispense right at the point of use, and uses no valuable bench space.
Housed under the bench, the Hexcel paper is simply passed through a pair of rollers and dispensed onto the bench at the optimal position for the packers. To reload, a section of the bench lifts up and allows rolls to be replaced easily and ergonomically. Watch this clip here to see what it looks like
The 'Protega Protect' is a unique desktop paper machine producing high volume 'on demand' protective paper packaging. The footprint of the slimline Protega machine is not much larger than an office printer and fits easily into even the smallest despatch area. Alternatively, it can be placed on a height adjustable stand and integrated into a packing line.
One unique feature is that the paper rolls are pre-folded. This means that they are easier to handle than traditional wide paper rolls. This has enabled the machine to be manufactured to a very small footprint of only 635mm x 360mm and at a weight of only 50kg. https//protega-global.com/paper-cushioning/
At 14.8KG the rolls are safe to handle by anyone and easy to load on to the machine.
2. Saving time by automation
Many retailers are citing that speed of packing is their main constraint at peak times. Integration helps you to remove the waste of your scarcest resource – time.
Our team have over 25 years experience helping companies across multiple industries to speed up work flow and design integrated solutions that improve operator working comfort as well as increase productivity.
From the beginning we work with you to make sure we have an in-depth understanding of your requirements. Following the information gathering phase we offer proven ways of streamlining your processes and maximising the storage and positioning of supplies and equipment. In many cases we have been able to virtually double the output of a packing area by reducing operator movement whilst enhancing working environment.
The five simple ways Protega Global can help you have a fully automated and productive packing area:
Consultation & Design
We carry out an initial survey to gain an operational overview of your organisation. We look at workflow, materials handling and packing requirements and configure an efficient and safe work area. CAD designs show what the finished project could look like, and, subject to input from all project stakeholders and agreement on the final design, a fixed cost will be given.
Manufacture
At Protega we manufacture bespoke equipment to meet the needs of your packing environment.
This can include bespoke packaging benches, conveyor systems and storage systems and, if relevant, all in combination with the Protega paper machines and other equipment.
Install
Protega Global offers full installation of integrated systems and will work with you to produce a detailed plan to minimise disruption to your operation during installation. We also offer full after sales and service back up.
New Build
For new warehouses we can advise and help you plan the despatch area, including requirements for integrated conveyor systems, pack benches, void fill machinery, security cages, and supervisor stations.
Any company project manager looking for support to create a design for the operations of a new warehouse can be assured of our collaboration with your project team to create the best and most efficient solution possible.
Training
We recognise that to get the full benefit of any installation training is essential. As well as training on the use of equipment we spend time to understand your current packing process, and offer advice on how to implement standardised packing methods that maximised protection and reduces cost.
3. Is your packaging complicated to use and assemble?
If your packaging is complicated to assemble or requires multiple processes, then this will likely result in slower packing times. This can be damaging for a growing business. The question is – can your packing process be simplified?
Many die-cut cartons can be slow to assemble. However, there are multiple designs which are made for quick assembly, including crash lock base boxes. When used in combination with Dynasafe Retention Packaging products can be packed in a fraction of the time. Not only does this offer effective protection for a variety of products it also cuts packing times down from minutes to seconds! See more information below or Watch this clip to show how quick it can be done.
Another example of simple, flexible packaging is the Protega Protect, producing the smartest paper cushion in the industry. This can be manipulated to fill gaps of all sizes and crucially eliminate movement of your products in transit. With multiple ways it can be integrated into you packing lines, and the easy-to-use controls, it is a first choice for companies wanting to simplify their processes and maximise space. Find out more on the Protega Protect here: Machine Benefits - Protega Paper - Packing Techniques
4. Speeding up your box sealing process
There are many options for speeding up your taping process including no tape at all! Here are some examples that are guaranteed to save you time in your packaging process:
Dynasafe Retention Packaging - If you are looking for a clean packaging product that will speed up your packaging process and eliminates other packaging materials such as tape then this is the ideal solution for you. Offering amazing versatility, this provides protection for a diverse range of fragile, and medium to high value products.
Dynasafe is 100% recyclable so the entire packaging can be disposed of in a household paper recycling bin. (The non-paper components of Dynasafe is no more than 1.5% of the total weight meaning under EN643 packaging regulations, the packaging can be regarded as 100% recyclable paper).
Gummed Paper Tape - Reinforced Gummed Tape has unbeatable strength and can be dispensed through an automatic dispenser. The wet gum adhesive soaks into the cardboard and fuses the tape to the box.
Within a few minutes of application, it is extremely difficult to remove.
The starch-based glue is completely soluble in water, and no solvents are used in its manufacture. Also, the adhesive gum breaks down easily in the recycling process.
Self-Adhesive Kraft Paper Tape - Protega' Self Adhesive paper tape is 100% biodegradable and recyclable. The glue consists of a natural rubber-based adhesive which is suitable for use in environments as low as -40 degrees. Crucially, the paper tape sticks to itself, which means the paper tape is just as flexible in use as plastic alternatives.
This Protega paper tape is available in both a 50m roll length and a 100m roll length – the 100m Roll results in higher efficiency due to fewer roll changes.
Available in 50mm and 75 mm widths our paper tapes fit standard tape guns, so there is no need to invest in new tape dispensers.
Both these tape options mean using less and speeding up your process. Here is a video to show you how quick it really is!
5. Becoming 100% Sustainable in 2022
There are many reasons and benefits to becoming sustainable, here are just a few:
Sustainable packaging shows you are taking your corporate social responsibility seriously
It enhances your brand and encourages returning customers
Decreases carbon footprint and lowers shipping costs
It optimises packaging and reduces waste
Helps secure the future of the planet
Companies are becoming increasingly aware of the need for sustainability to be reflected in the packaging they use, and are starting to take action. Clearly preserving the planet for the next generation is in everyone's interest, but you can also reap the additional benefits of reduced costs, reduced breakages, and improved customer satisfaction.
At Protega we provide you with viable, cost effective alternatives to non-sustainable packaging. Focused on maximising the use of recycled paper and using locally sourced parts for our in-house machine and equipment production, our sustainable packaging not only minimises carbon footprint, it can also save you money.
We are continuously innovating with our customers to find smarter and faster ways to pack and create eco-friendly packaging that will excite your customers and bring them back to you again and again.
If you are experiencing any challenges or would like advice on improving your packing area in 2022 call Protega to see how we could help you, 01722 427842. Take a look at our sustainable product range and find out more on how you can make the switch from non-sustainable packaging: www.protega-global.com