GRF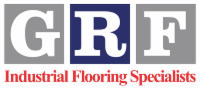 This year's IntraLogisteX Exhibition was certainly bigger than previous years and we at GRF considered it to be the best so far.
The quality of the attendees and the nature of the enquiries proved excellent. We came away with a long list of possible new clients and the hard work of attempting to turn them into business has begun.
It appeared that every attendee was there to research and do business and we were not subjected to being inundated with 'tyre kickers' as at some Exhibitions.
Looking forward to next year's Exhibition.