28 Nov 2019
51T Enterprsise Solutions unveils Smart Charging Cabinet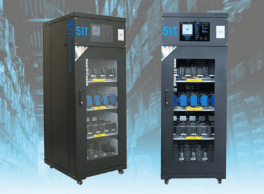 The latest in the company's charging cabinets, the 'Smart Charging Cabinet' has advanced asset tracking software and device management features.
The company has led the way in producing high quality, durable solutions to optimise the use of mobile devices in rugged environments.
Enterprise investment is becoming increasingly more prevalent, which is why the company has responded to this need for advanced security to help stop the loss and damage of mobile devices.
The unit can be customised, and made suitable for any business. That needs to store, charge, and track valuable assets such as equipment that is used in hospitals, emergency service facilities, and laboratories.
The asset management and tracking which the unit has can log user interaction with video recording for more security. Users will have access to several ID choices, including RFID, fingerprint scanning, barcode scanning, QR, or proximity cards.
Built-in alerts provide more control and reporting intelligence.
The company has assessed all the possible uses of a modern charging unit, paying attention to end-user, and enterprise requirements.