21 Jan 2020
Exhibitor Q&A: Mark Allan, UK Sales Manager for KEITH Walking Floor Europe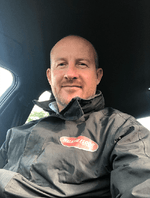 Can you please share a little bit about yourself with our visitors?
I am the UK Sales Manager for KEITH Waking Floor Europe with over 15 years' service with the company. I have completed an engineering apprenticeship and achieved a 1st Class Honours degree in Mechanical Engineering at the University of Huddersfield. My role with KEITH involves many aspects from sales to technical support and after-sales service. It's a versatile product which provides a great amount of variety meaning you are always looking for the next opportunity to help your clients solve their material handling challenges.
Can you please tell us why you chose to exhibit at IntraLogisteX 2020.
KEITH is a global company designing and manufacturing material handling equipment since the early 1970's and our latest product on the market is the Freight Runner for conveying palletised goods, whether for loading or unloading your transport vehicle or integrating your warehouse and logistic departments safely and efficiently. The IntraLogisteX show is the ideal event for showcasing the Freight Runner and Pallet Walker systems.
What will you be sharing with visitors at the exhibition?
I will be showcasing the Freight Runner demonstration unit on our stand no. 806 so visitors can watch the Freight Runner in operation and our expert staff will be on hand to answer any questions.
What do you feel are the biggest challenges facing the industry at the moment?
I believe the biggest challenge the industry faces today is better integration of the warehouse and logistics departments to ensure efficient, reliable and safe transfer of goods from the warehouse to the transport vehicles. The Freight Runner can provide a fast and economical solution by offering the option to pre-stage loads as well as load your trucks within minutes resulting in significantly reduced loading times.