28 Feb 2020
Fives presents its new versatile smart sorter, the GENI-Ant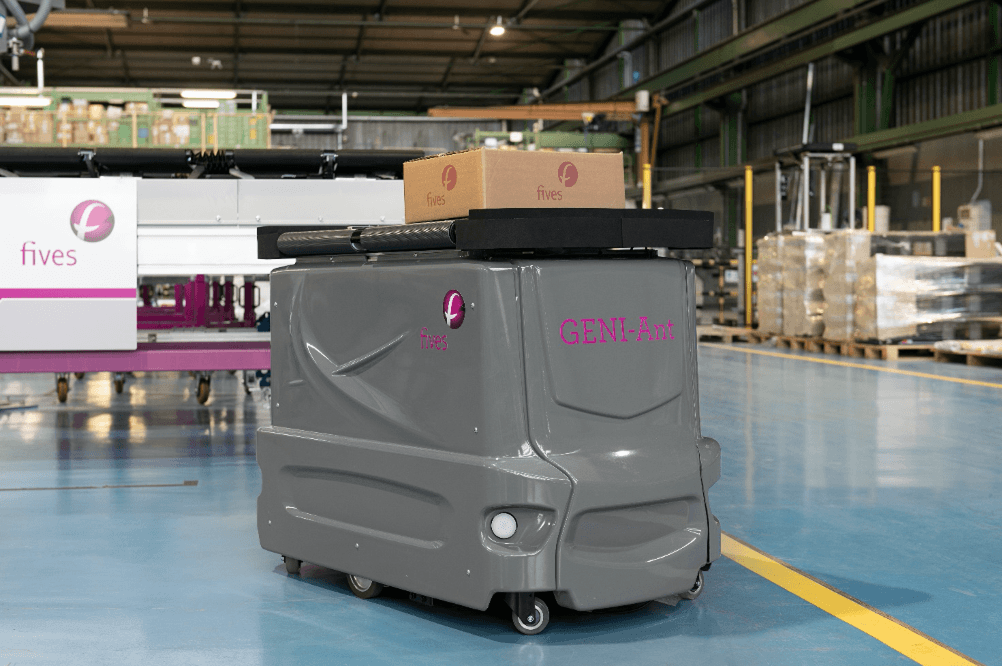 Fives designs and supplies high-speed, automated sortation and singulation technologies and turnkey projects as well as an extensive range of services for a variety of markets.
In 2018, Fives achieved a turnover of €1.95 billion and employed close to 8,700 people in about thirty countries.
The company recently launched its new distributed sorter based on autonomous mobile robot (AMR).
All Logistics operations need a technology enabling flexibility, modularity, scalability, versatility and everything that allows being competitive on the market.
GENI-Ant is the answer to the relentless leaps of Logistics. It can transport and sort both standard and extremely small, unstable items, while allowing high speed and capacity.
Manual or automated loading
The parcels can be loaded onto the GENI-Ant manually by an operator or automatically with an automated induction line.
Optimised paths
GENI-Ant is free to move in the operational area according to a navigation map and optimized travel paths.
Non-stop high-speed running
GENI-Ant never stops. It can adjust the speed according to different needs like for unstable parcels or when it is approaching the parcel loading/unloading area.
Battery recharge "on the fly"
The battery is recharged while vehicles run their operations thanks to an extremely innovative recharging system. This allows to work without spare robots to keep up operations when any recharge is needed.
Single or double cell
GENI-Ant can be equipped with one sorting cell (cross belt) or with two stand-alone cells to enable sorting of multiple items.
Single or multiple loading area
Based on the capacity requirements, the system can be configured with one or more loading areas. The GENI-Ant System Management software calculates and optimizes the route according to the position of each vehicles to the closest loading area.
Space saving
Compared to a sorting machine, a system based on GENI-Ant requires much less space, yet providing high productivity and enabling a much greater number of destinations.
Safety
GENI-Ant operates inside a segregated area to comply with the highest health and safety regulations.
Main features
Modular design, easy to install and to reconfigure, small footprint, optimized travel paths, scalable investment, short delivery time, expandable for future upgrading.
To meet our experts and start your automation journey, email mathieu.scampini@fivesgroup.com or message linkedin.com/in/mathieuscampini