30 Jun 2020
Meeting Sustainability Requirements with HSM UK on Stand 433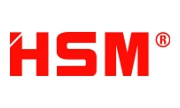 HSM are global pioneers of environmental technology, offering market-leading innovative solutions for waste management requirements. HSM's products come with a "Made in Germany" quality with leading lines including the Vertical baling systems and ProfiPack packaging machine.
Focusing on shredding, baling and waste compressing machinery, HSM provides solutions for businesses, large-scale commercial operations and other institutions. Their solutions are varied, fitting a number of different waste management requirements for companies both small and large. The main sectors HSM supplies its solutions to are logistics companies within the retail, warehousing, transport and distribution sectors.
It's been predicted that the demand for warehouse space will rise, and so businesses will be considering ways to alter their waste management procedures accordingly. HSM baling machines generate bales which compress the volume of waste by up to 95%. There are a number of benefits this boasts, including saving businesses unnecessary costs on transportation and potentially earning ROI back on your baled waste.
At IntraLogisteX this year, HSM will be showcasing live demonstrations from their range of vertical baling presses and cardboard perforating systems. On display at the exhibition will be HSM's V-Press 860 Plus B and the ProfiPack P425 cardboard perforator machine.
The 860 Plus B baler is capable of producing large, high-density bales up to 550 kg with a bale size of 1500 x 780 x max. 1200 mm which can be sold with no further compression required. This baler can compress cardboard and plastic film waste materials, and benefits from rapid stroke technology which helps to save valuable labour time and money. In addition to this, the ProfiPack P425 perforates cardboard materials (a waste material warehouse and logistics departments produce large quantities of), transforming them into free packaging material ideal for shipping and storage requirements. This also eliminates the need to use common plastic packaging such as bubble wrap.
For businesses, doing their part for sustainability and recycling is of increasing importance. And, for increasing demands on warehouse space, these environmental technologies are ideal.
Visit HSM UK at stand number 433 at IntraLogisteX for more information about how their environmental technologies can benefit you.
For more details on HSM UK, visit their website: www.hsm.eu